2021 was our first foray to being back to normal and we'd like to know how we did.  We'd also like to know why you didn't join the pool.  So please click the link above and take 5-10 minutes to let us know your thoughts.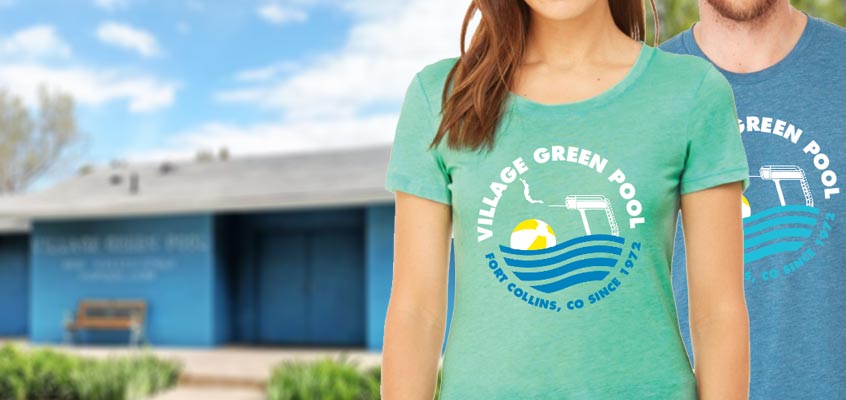 T-Shirts Available for Order
Order yours and sport some love for your pool. Men's, women's and youth t-shirts available.
The 2021 season at Village Green Pool & Courts is over.
This is what just a few of our members had to say about 2020.  Feedback on the 2021 season is coming soon!
We love VG Pool. It was truly one of the bright spots of our 2020 summer. Thank you for working to keep it open and operating safely. The life guards were awesome, too! I would send in my membership check tomorrow for summer 2021 if I could.
Nothing reservations were great having more space at the pool was awesome!
None, I thought it was the best way to do things, given the situation.
However, we REALLY liked the policy that allowed us to claim unused spots an hour before. It helped us feel like we got our money's worth when our registered times got rained out.
I don't remember having any dissatisfaction last summer. I was so grateful to be able to swim safely.
This saved our summer. Thank you thank you thank you.
None. Seriously! It was a extremely well put together system!
The staff is also great! Especially in covid times! It was always very clean.
I thought you all did an amazing job! We'll be back this year!
No changes...the staff are always friendly and helpful. The pool and the surrounding areas are always clean. I love swimming there and enjoying the whole experience.
Overall very pleased with VG staff and how it was a place to go to relax
...Finally, we want to say that VGP essentially saved our summer and especially for our kids. It's hard to overstate how miserable the last year has been, but being able to go to the pool in the summer (if only for a few times a week) helped our family feel a sense of normalcy and summer fun. We are grateful to all of you who made it work.
You're doing an excellent job ! Thank you for making the effort to be open
. Much appreciated
I don't have a lot of changes to suggest - last summer being our first summer as members, I thought the way all the COVID limitations and safety measures were handled was just fine. Thanks for volunteering on the pool board and making our neighborhood pool great.
Thank you for what you do! It's a great family experience to have a pool available!
King Soopers Community Rewards
We are now registered with King Soopers' Community Rewards program. That means King Soopers will donate a percentage of the amount you spend with them to the pool at no additional cost to you. All you have to do is log into http://www.kingsoopers.com and go to the Community Rewards section of your account profile. From there you can add us by searching for either Village Green Pool or our Community Rewards ID, HF581. Detailed instructions can be found here if needed.
If you're not already contributing to an organization in this manner, it would be appreciated if you would enroll in donating to the pool.
Fort Collins' Premier Neighborhood Outdoor Pool and Tennis / Pickleball Facility
Village Green Pool is a neighborhood pool and tennis facility located in the Village West/Lexington Green subdivision serving the greater Ft. Collins community since 1972. We also offer other activities such as tennis courts, VG Gators swim team, and swim lessons. Become a new member of our pool or renew your membership today. Come join us for our 45th year providing safe and relaxing summer fun. Click on the "Become a Member" tab at the top of the page for more information.
Ft. Collins' Only Outdoor High Dive!